Although not updated for long, this wiki remains like this until today 9/28/2016
from https://en.wikipedia.org/wiki/NetBase_Solutions,_Inc.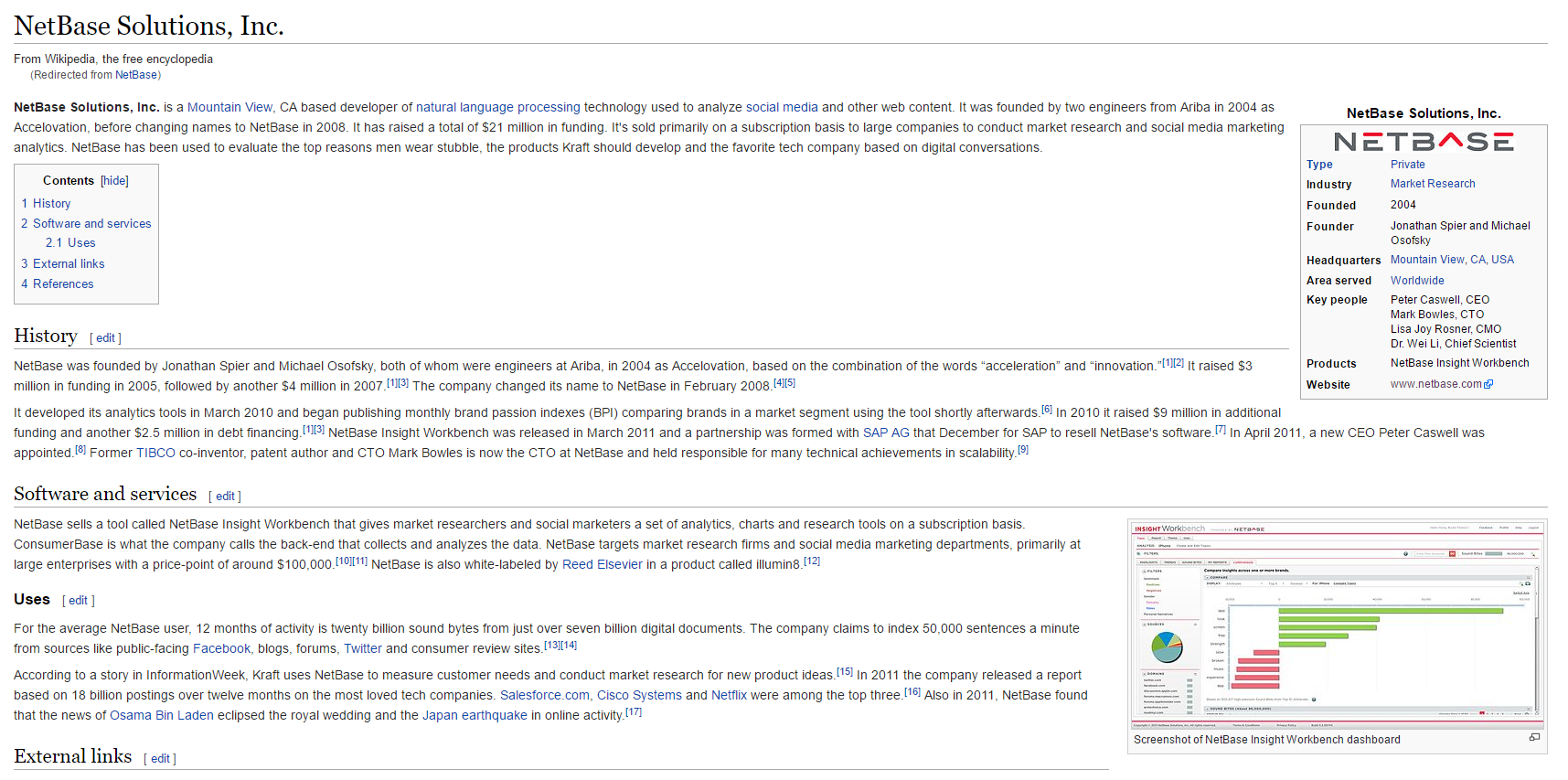 NetBase Solutions, Inc.
From Wikipedia, the free encyclopedia
NetBase Solutions, Inc.
Private
Industry
Market Research
Founded
2004
Founder
Jonathan Spier and Michael Osofsky
Headquarters
Mountain View, CA, USA

Area served

Worldwide

Key people

Peter Caswell, CEO
Mark Bowles, CTO
Lisa Joy Rosner, CMO
Dr. Wei Li, Chief Scientist
Products
NetBase Insight Workbench
Website
www.netbase.com
NetBase Solutions, Inc. is a Mountain View, CA based developer of natural language processing technology used to analyze social media and other web content. It was founded by two engineers from Ariba in 2004 as Accelovation, before changing names to NetBase in 2008. It has raised a total of $21 million in funding. It's sold primarily on a subscription basis to large companies to conduct market research and social media marketing analytics. NetBase has been used to evaluate the top reasons men wear stubble, the products Kraft should develop and the favorite tech company based on digital conversations.
History
NetBase was founded by Jonathan Spier and Michael Osofsky, both of whom were engineers at Ariba, in 2004 as Accelovation, based on the combination of the words "acceleration" and "innovation."[1][2] It raised $3 million in funding in 2005, followed by another $4 million in 2007.[1][3] The company changed its name to NetBase in February 2008.[4][5]
It developed its analytics tools in March 2010 and began publishing monthly brand passion indexes (BPI) comparing brands in a market segment using the tool shortly afterwards.[6] In 2010 it raised $9 million in additional funding and another $2.5 million in debt financing.[1][3] NetBase Insight Workbench was released in March 2011 and a partnership was formed with SAP AG that December for SAP to resell NetBase's software.[7] In April 2011, a new CEO Peter Caswell was appointed.[8] Former TIBCO co-inventor, patent author and CTO Mark Bowles is now the CTO at NetBase and held responsible for many technical achievements in scalability.[9]
Software and services
NetBase sells a tool called NetBase Insight Workbench that gives market researchers and social marketers a set of analytics, charts and research tools on a subscription basis. ConsumerBase is what the company calls the back-end that collects and analyzes the data. NetBase targets market research firms and social media marketing departments, primarily at large enterprises with a price-point of around $100,000.[10][11] NetBase is also white-labeled by Reed Elsevier in a product called illumin8.[12]
Uses
For the average NetBase user, 12 months of activity is twenty billion sound bytes from just over seven billion digital documents. The company claims to index 50,000 sentences a minute from sources like public-facing Facebook, blogs, forums, Twitter and consumer review sites.[13][14]
According to a story in InformationWeek, Kraft uses NetBase to measure customer needs and conduct market research for new product ideas.[15] In 2011 the company released a report based on 18 billion postings over twelve months on the most loved tech companies. Salesforce.com, Cisco Systems and Netflix were among the top three.[16] Also in 2011, NetBase found that the news of Osama Bin Laden eclipsed the royal wedding and the Japan earthquake in online activity.[17]
External links
References